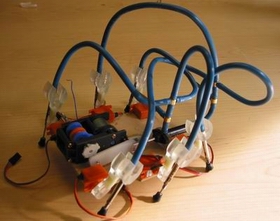 Predecessor of iSprawl, the first sprawl robot that operates with autonomous power. It uses hydraulic power transmission system. The idea was to explore hydaulic power transmission to distribute power to the legs. The tubes contain water and the system works like hydraulic brakes on a car, with a single master piston and slave pistons at each leg. Aqua Sprawl is assembled in a bathtub to prevent air bubbles.
After many design iterations, including remachining the original Sprawlita pistons to put in double seals to handle negative pressure on the return stroke, a version of Aqua Sprawl was produced that ran fairly well:
A movie of Aqua-Sprawl
Although Aqua Sprawl ran reasonably well, there is a fundamental limitation to the achievable speed because while retracting the pistons, only atmospheric pressure is available. On the other hand, this could be a good design for underwater use!